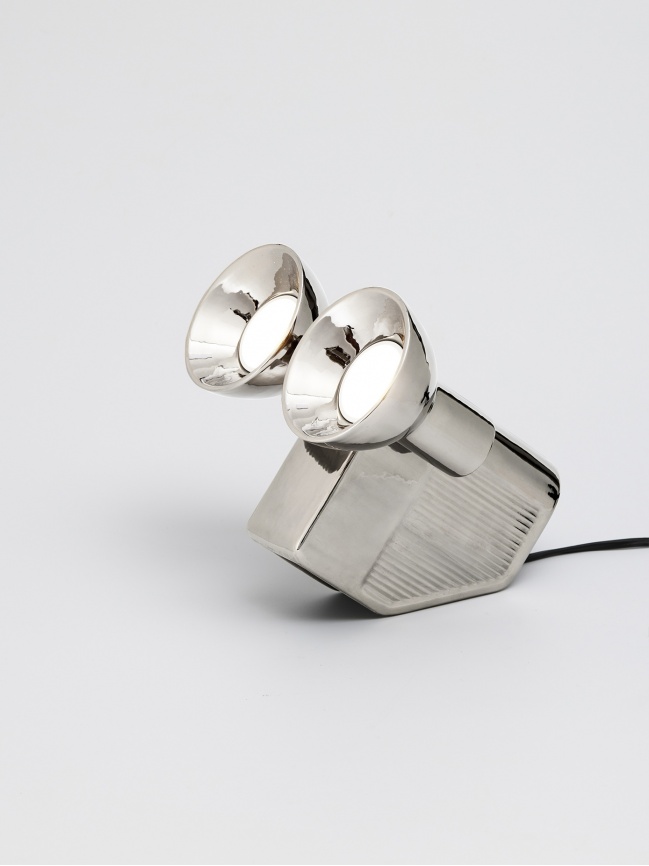  
Jean-Baptiste Fastrez
OLO lamp
Platinum
L. 20 cm x H. 21 cm x P. 15 cm
Technical indications : 2 GU10 3W LED bulbs included
Material : Ceramic
JBF 05 platinum
Made in Italy
3 lighting positions table lamp
Small, compact, fitted with 2 Led bulbs, OLO can be adapted to all types of situations and fits in anywhere.
At ease beside the bed, on the ground, on a table, in a library or on a shelf, three lighting positions allow it to be moved backwards and forwards to light horizontally, vertically and at 45 degrees and be an ideal solution to create diffused atmospheric lighting or, on the contrary, directed beam angle lighting to emphasise the most confined and specific areas.
A genuine tool with a resolutely technical design, OLO however has an affable and benevolent character. A reference at the same time to certain well-known personages in the animated film world, to military exploration objects or again to a Super 8 camera, in one dense and positive design, it focuses multiple origins in which everyone can project their own references, their own history.
At a time when the majority of so-called technical lamps are made of plastic, OLO choose to commit itself to ceramics. Using acquired techniques and ancestral know-how, it establishes its modernity in a manufacturing process and a formal and resolutely contemporary vocabulary.
Fast delivery
For products in stock, shipping within 7 days maximum in France and internationally.
Secure payment
Payment possible via Paypal / Credit card / Transfer / Check
Contact-us
Monday to Friday: 10 am-12pm / 2 pm-6pm
By phone: 0033 (0) 1 42 40 92 58
Or by email by
clicking here