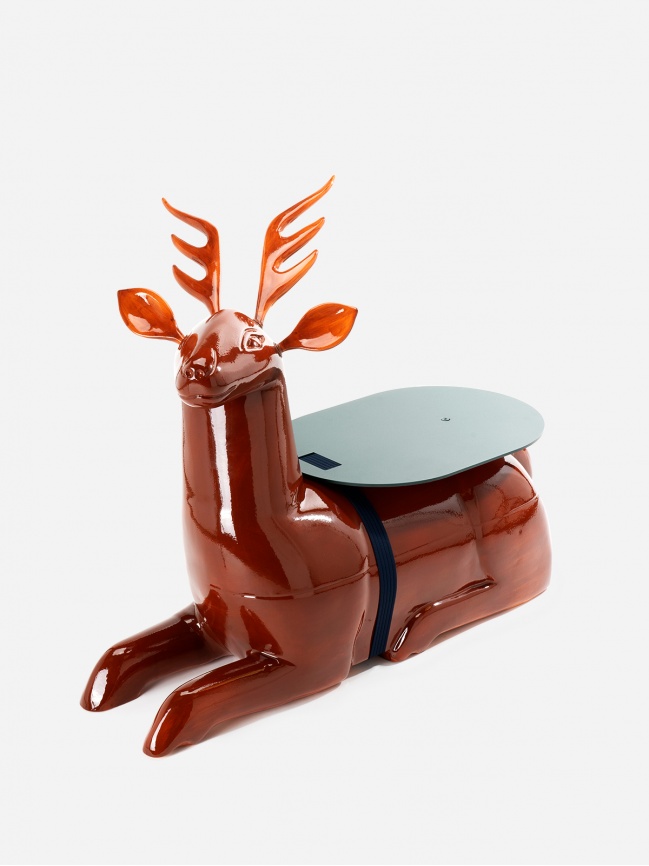  
Lanna coffee table
Brown - Dark green
L. 105 cm x H. 81.5 cm x P. 56 cm
Material : Ceramic, lacquered steel, polyethylene strap
Delivery : on pallet
REP 03 brown dark green
Made in Italy
Thanks to the new technologies of 3D scanning and CNC milling, Lanna, which takes its name from an ancient Asian kingdom, is a replica of a precious antique found in Northern Thailand. A change of scale made possible by the use of 3D modelling and sculpting tools transforms its use by shifting this replica from its original typology to another.
With no known author and difficult to date, its design is intriguing because of its regular and stylised geometry and reminds one of Art Deco.
Transposed to this new scale, it still presents the details offered by the original material and the gestures of its manufacture.
Conceived as a hybrid, it is both sculpture and furniture, industrial and artisanal. It is an extension of the Replica #1 and #2, also made from anonymous objects with remarkable ornamental and narrative qualities. Here, the symbolism of the deer remains mysterious. This animal, represented in abundance by almost all cultures in the world but never domesticated, constitutes a mythological and poetic figure that allows each of us to project a story onto it.
Lanna will not give us any information about her past, but her quietness and her benevolent look make her presence a gentle and familiar company.
Fast delivery
For products in stock, shipping within 7 days maximum in France and internationally.
Secure payment
Payment possible via Paypal / Credit card / Transfer / Check
Contact-us
Monday to Friday: 10 am-12pm / 2 pm-6pm
By phone: 0033 (0) 1 42 40 92 58
Or by email by
clicking here